ART
Experiencing creative arts is important for preschoolers! Through art they develop in areas such as
Motor skills
Language skills
Inventiveness
And many more areas
This website  from PBS describes many of the benefits, besides IT'S FUN!
Our preschoolers have art projects available to them everyday.  The art center is always ready during center time so that the kids can make their own free art creations or there may be a specific project for them to work on.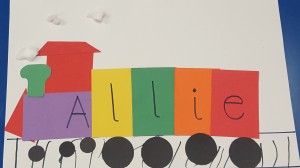 ---
MUSIC
Music is the perfect outlet for children to develop self-confidence, express themselves creatively and encourage exploration of the world around them
The Fine Arts Standard for Early Education in Arizona focuses almost exclusively on movement to achieve a musical experience.
In Beth Boesch's preschool music program, children will not only be moving to music (to include but not limited to: dance, improvisation, simple choreography and expression of musical concepts) but singing, listening to different types of music, playing simple instruments and participating in musical games.
Mrs. Boesch's program enriches children's lives with music on a weekly basis for PreK  classes.  Classes are 30 minutes long and are developed for children 3-5 years of age through careful and loving selection of content and materials.
You can learn more about Mrs. Boesch and her music here.