Parent Tot
This interactive class introduces children to the preschool setting and routine with the comfort of a parent or guardian present. Our theme based curriculum includes Biblical teachings, social interaction, and multi leveled academic activities for the parent/tot pair to work on together. It's an exciting way for families and preschoolers to make some friends while learning some important skills that will help them be very successful in the 3's and PreK classes. Mrs. Scharff's Parent Tot class will encourage your child to develop spiritually, emotionally, socially, mentally and physically. Children do not have to be potty trained for this class, however there is an adjacent bathroom if needed.
Biblical teachings
Social interaction
Indoor and outdoor play
Introduction to academic skills.
Children must be at least 2 years old by August 31st
Please read through the Policies and Procedures for the class.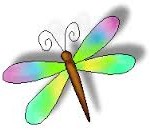 Darling Dragonflies
Fall Session (Choose 1)
Tuesday      9:00 am-10:30 am
Thursday   

9:00 am-10:30 am 
Spring Session (Choose 1)  
Tuesday   

  9:00 am-10:30 am 

Thursday  

9:00 am-10:30 am 
Tuition
$200/Session
$30 registration fee/session
Tuition for this class is due by the first day of class. Tuition can be paid by check in the preschool office or online.
Visit the Registration Page for more information and registration documents.
Fall Themes
Blue, Circles

Water, Fish

Bears
Bugs
Orange, Triangle
Noah's Ark, Rainbows
Fall Leaves
Red Squares
Apples
Pumpkins
Sunflowers
Pizza
Turkeys
Spring Themes
Purple Hearts
Frogs
Farm
Baby Animals
Yellow Oval
Hearts
Bubbles
Transportation
Green Rectangles
Flowers
Caterpillars
Eggs
Crayons
Spiritual Life, For Families
Our church community offers many ways for all members of the family to grow spiritually. Preschool families are always welcome to participate with any of the church groups. Some opportunities are:
Women's Bible Study on Tuesday mornings, during Preschool hours (nursery care is available with prior notice)
Wednesday Evening Bible Study groups, Music Groups, Dinner, Children and Youth programs.
Sunday Morning Service times:  8:00 am, 9:30 am, or 11:00 am
Sunday School Classes for all ages from 9:30 am – 10:30 am.
Visit the Church website for more information:  www.gilbertumc.org
For Preschoolers
The Preschoolers are educated about God in many ways throughout the school year.
In Parent Tot, the students sing joyful, age appropriate songs, and learn Bible verses and Bible stories as they practice interacting with each other in loving, meaningful ways.
Mission Opportunities
Each month the preschoolers and their families may choose to participate in a Mission activity as a way to help others as we "spread God's love." Often these mission activities coordinate with the church-wide missions committee. The activity is announced in our monthly newsletter and in the Preschool Office.
Some of our past mission activities include:
 Making clay crosses to give to the pastors to share as they visit people.
Collecting toys/hygiene items/books pack in shoe boxes for Operation Christmas Child. The gifts are given to children in 3rd world countries.
Canned food drive for the Gilbert Food Bank.
Making Valentine Cards for our Military Service People.
These mission activities teach the preschoolers ways to help other people. We are always open to new ideas and love to have families participate and help out!