Kari Green at Gilbert Preschool
Kari Green is one of our PreK teachers! She teaches the Helpful Honeybee class, Monday through Thursday and has been teaching with us since 2016.  Her background includes teaching in early and elementary education as well as working at Phoenix Children's Hospital where she taught patients and siblings about their diagnosis and treatment. She received a Bachelor's of Science Degree from ASU in Child Development and has completed coursework towards her Masters in Elementary Education.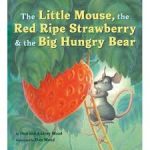 You can contact Mrs. Green to ask about her PreK class.
Here are some of Kari's favorite things:
Book: 

The Little Mouse, the Red Ripe Strawberry, and the Big Hungry Bear

by Don and Audrey Wood
Preschool Day Activity:  Center Time, when she can work one on one with the children.
Preschool Song: "I am a Pizza"
Chapel Lesson:  Noah's Arc
Bible Verse:  1 John 3:18
"Dear children, let us not love with words or speech but with actions and in truth."    1 John 3:18