Grandparents' Day at Gilbert Preschool
Our 2018 Grandparents' Day Breakfast was on September 5th and 6th. The theme was Grandparents Brighten our World!  Our students love to come to Gilbert Preschool and bring their grandparents for a breakfast treat. Children and adults enjoyed games at the tables while they ate. It was wonderful to see how engaged the children were with their grandparents.  Every year, the students make a gift to present to the grandparents to show how much they are loved and appreciated.  Grandparents came from nearby, as well as out of state, to spend this time with their little ones.  Grandparents' Day is so much fun!  Take a look at our calendar for more information on special events that are coming up!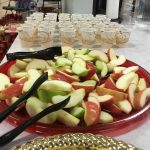 Here are three purposes for National Grandparents Day:
Honor our grandparents.

Give grandparents an opportunity to show love for their children's children.

Help children become aware of all that older people can offer.
Read more about the beginnings of Grandparents Day by visiting The History of Grandparents Day.