Preschoolers and Easter
At Gilbert Preschool, we enjoy having a chapel lesson with the children once a week.  This lesson introduces our theme of the week.  Over the last few weeks, we've been learning about the story of Easter.
Gilbert Preschool keeps the focus of Easter on the resurrection of Jesus Christ, instead of the Easter Bunny.  This can be a difficult subject for children who are so young. We treat the story of Easter with great love and reverence.  During chapel, we use the book, The Miracle of Easter, to help us tell the story.
The Miracle of Easter, is a big book that measures 20×16 inches, which makes it a great size for reading to larger groups of children.  It tells the story of Easter in a very child friendly way.  The story begins with the Disciples getting a donkey for Jesus to ride on his way in to Jerusalem.  It tells how the people of Jerusalem lay palm branches and coats on the ground for Jesus's entrance into the city.  It describes the story of Jesus's last meal with his disciples, how He prayed in the garden, and finally, how Jesus was put on a cross and died.  The last few pages of the book describe how Jesus body wasn't in the tomb where he was buried, how He appeared to many people after his death and then rose to heaven.  The bright, beautiful pictures make it interesting and appealing to the young preschoolers.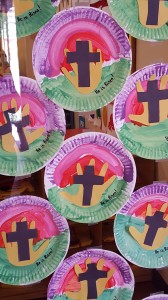 Our prekindergarten students made these colorful art projects to celebrate Easter.
The chapel lesson of Easter is broken up into 2 or 3 weeks.  After the last lesson, we always encourage the preschoolers to speak to their parents about the story and ask questions that they have. At Gilbert Preschool, we are partners with the parents of our students, in both their academic and spiritual growth and we understand that all families have their own ways of teaching and celebrating Easter. Before the children leave back to their classrooms for the day, they are given a plastic Easter egg that has a strip of paper inside that reads "Jesus is alive!  Hallelujah!" and a few jelly beans of course!