Chores for Preschoolers
Lindsay Watrous has some great ideas on appropriate chores for preschoolers!
I was sorting my pantry today when I came across these three jars: one for chores, one for books, and one for fun learning activities.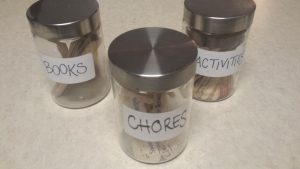 I made these jars back in 2012 when our two boys were still in preschool here at FUMCG (Ladybugs and Dragonflies). Seeking ways to introduce the concept of chores to our little ones, as well as feeling desperate to keep two tiny kids entertained at home, I hit the craft store and got organized.
CHORE JAR
The chore jar was a huge hit. I filled a jar with craft sticks, and hand-wrote a preschooler-friendly chore on each one. Each day, they would pick a couple of chores to do. When they had finished the chore, we stuck the stick back in the jar upside down. Once we ran out of chores, we would flip them all right-side-up again and start over.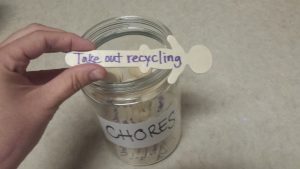 Some of the chores required close supervision, and others they could do completely on their own. I really tried to strike a balance here. While I didn't want to have to oversee their every move, I did want them to start learning to do more complex tasks. As we all know, it takes about ten times longer to help a child clean a toilet than it takes to clean it yourself. But we must start teaching sometime, and with potty-training little boys, learning to clean toilets is essential. I was sure to include plenty of turn-key tasks, like wiping down the kitchen table with a wet rag or sanitizing doorknobs with a wipe, to give myself a break from supervising every step.
Here's just a sample of the 25-30 chores I have in the jar:
* Wipe kitchen table
* Sort laundry
* Take out recycling
* Unload dishwasher
* Fold towels
* Wipe down bathtub and tidy bath toys
* Sweep patio
* Vacuum under couch cushions
* Sanitize doorknobs
* Clean bathroom mirror
* Feed household pets
* Scrub toilet
* Dust baseboards of one room
BOOK JAR
Before I had any independent readers at home, I needed a daily reminder to read out loud with my kids. I also struggled with their asking to read the same books every day, while so many of my favorites collected dust on the bookshelf. While re-reading the same books with your child has great cognitive benefits, it was starting to make Mommy feel a little crazy.
Having a book jar that matched the chore jar met both needs. The kids looked forward to taking turns pulling book titles from the jar, and I was able to mix it up by color coding the ends of the sticks. Once we had read a book, we would flip the stick over and start fresh when they were all upside down.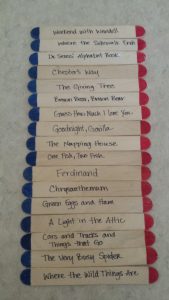 The books had to meet a few criteria before making it into the jar. First, I had to be able to easily locate the book in my house. Second, I had to really enjoy reading it aloud. Third, it had to be a manageable length, or at least be easy to break up into smaller parts (like the poems in "Where the Sidewalk Ends" by Shel Silverstein). I also created a book basket for the backseat of the car for all the books that the kids loved to read again and again, but that I didn't personally enjoy. This is what we call a win-win!
ACTIVITY JAR
The activity jar was a great way to incorporate some fun learning activities into our day. I got most of the ideas from the summer packet sent home from the FUMCG preschool at the end of the school year. I also added some of my own ideas like board games and self-care skills. We really relied on this jar during the summer when they had lots of downtime.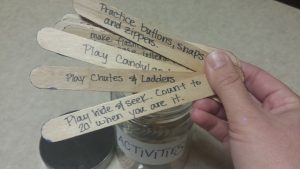 Some examples include:
* Paint letters on the patio using a paintbrush and ice water
* Play Candyland
* Practice buttons, snaps and zippers
* Play hide and seek, and count to 20 when you are it
* Play Memory
* Practice tying shoelaces
CHARTS FOR OLDER CHILDREN
With our boys entering fifth and third grade, and their little sister starting Kindergarten, we've outgrown these fun jars. Our youngest would still enjoy them, but we've graduated to a weekly chart that is similar to what her brothers have been using. We use magnets to fill them up so that I don't have to reprint them every week, but stickers or crayons would work well too. They need to complete their daily tasks before they have screen time, and they earn a few dollars each week for filling their charts.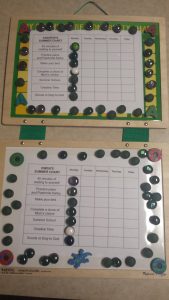 During the school year, their weekly charts are less focused on chores, and more focused on homework, music practice, reading, and showers (because, boys). While they are still required to pick up their rooms and clear the table on school nights, I prefer to use the summertime to involve them in daily chores. This is for my own sanity – there just isn't enough time after school to get everything done before bedtime.
The kids still request that I pull out the chore jar from time to time. However, I now prefer to choose their chores based on what I need done each day, such as taking the trash cans to the street on garbage day, or loading the dishwasher when the sink is full. I mean, clean baseboards are nice, but they are usually not the most immediate need!
For some other suggestions of age-appropriate chores, try this link:
Words of wisdom by Lindsay Watrous
Learn more about Lindsay on her staff page!
Thank you, Lindsay, for these great ideas! Preschoolers and young children can be such a great help!